Posted by Eric (May 28, 2009 at 4:15 pm)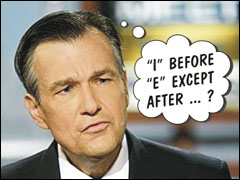 Listening to some of the meandering nonsense coming from Doug Kmiec during his recent debate with Hadley Arkes at Villanova University (Part 1) (Part 2), I began to wonder if he'd lost his mind.
For example, he asked us to believe that what Barack Obama meant when he said he wouldn't want his daughters "punished with a baby" if they made a mistake was that he wouldn't want to see them deprived of all the joy that comes from learning that you're going to become a parent when the time is right. "Punished with a baby" seems like a strange way to put it, but that's what Obama told Kmiec, and Kmiec bought it.