Posted by Eric (April 23, 2007 at 12:43 pm)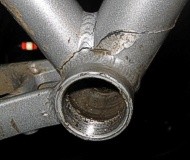 I like to ride off-road early in the morning. Nothing sets you up for the day like an hour on the trail at the crack of dawn. Unless you happen to crack your bike frame.
Last Tuesday morning, I was coasting along about 15 minutes into my ride when I noticed something funny about my pedaling. Wobbly on the right side. I clicked out of the pedal and saw nothing amiss with pedal or shoe. But looking a little closer I saw cracked paint just above the bottom bracket. Uh-oh.