Posted by Eric (April 23, 2007 at 12:43 pm)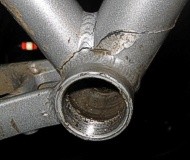 I like to ride off-road early in the morning. Nothing sets you up for the day like an hour on the trail at the crack of dawn. Unless you happen to crack your bike frame.
Last Tuesday morning, I was coasting along about 15 minutes into my ride when I noticed something funny about my pedaling. Wobbly on the right side. I clicked out of the pedal and saw nothing amiss with pedal or shoe. But looking a little closer I saw cracked paint just above the bottom bracket. Uh-oh.
I turned the bike over and found a significant crack on the right side of the down tube, along onto the seat tube. Ride over. Bike toast.
Later that morning I talked to Art at Mill Race Cyclery, who said I could drop the frame off that afternoon for the Trek sales rep to take pictures and, hopefully, authorize a frame replacement the next morning. The bike is a 2004 Gary Fisher Big Sur, and Trek owns Fisher.
Art wasn't there at the time, so I called the store Wednesday morning to let him know it was there, and lo and behold, the Trek guy was looking at it that very moment. He said there'd be no problem with getting a new frame for me. Probably take about a week.
The next day, Thursday, Art calls to say the new frame is in. I'm astonished. I had planned to order a new headset online (the original was in pretty bad shape, and what better time to replace it?); instead I picked up an FSA Pig at Pedal and Spoke in North Aurora and dropped it off at Mill Race for the mechanic Dennis to install.
The new frame was a beauty. They gave me the black and silver 2007 model—beefier, sleeker and prettier. But my seat post was too thick. More scrap metal.
So I went to Performance Bike where I'd bought the seatpost to see about swapping it, which the manager was surprisingly eager to do. I had a 31.6mm Ritchey Comp, a relatively low-end seatpost, but with two bolts; after snapping the single bolt on the stock Bontrager seatpost several times without coming to harm I decided it was time for two bolts.
However, they didn't have the 27.2mm seatpost I needed. But they had the Thompson Elite on sale, one of the best seatposts out there, and with the exchange on my Ritchey, it was a super deal.
New seatpost in hand, I returned to Mill Race Friday to pick up the new frame with the newly installed headset and the old bike. I figured there was a chance I could swap everything over quickly and still get a ride in on the weekend.
That is, until I got to the left bottom bracket bolt, which would not come out for anything. Eventually, the bolt was stripped; the allen wrench just spun around inside. So I decided, stupidly, to try drilling it out. Two drill bits later, I decided this was my excuse to get the integrated external bearing crank/BB upgrade I'd been pondering for a year.
But then I couldn't even get the pedal off that crankarm. Curses. More and more scrap metal. (One way or another I'll get that pedal off, even if I have to Dremel through the crankarm; but I have spare pedals anyway).
Now I'm just waiting for the new FSA Afterburner Mega Exo that I settled on after a couple days of research to arrive from Cambria Bike. Got a huge deal on that, thanks to their Price Smash feature. In the meantime I have to pick up the Park BBT-19 tool from Bicycles Etc. that I'll need to install it.
Five bike stores, new frame, new headset, new seatpost, new crank/bottom bracket, and with any luck by the end of the week I'll be back in the saddle—one of the few parts, by the way, that remain from the original bike (the others being the Rock Shox Duke SC fork, and Bontrager stem and handlebar, and Shimano Deore LX front dérailleur).
Mountain biking is a ridiculously expensive hobby, it is true. Road bikes and parts can be more expensive still, but they don't wear out as fast. I can count on replacing one or two major components on my mountain bike every year (usually the bottom bracket or rear dérailleur).
But psychiatric care is even more expensive, as are defense attorneys. Riding the trails keeps me sane, and for that it's worth every penny.
Update: The crankset arrived quickly and everything went well with the rebuild. In fact, I think the front shifting is better now than it was with the old crankset. I've been out for three or four rides as Saw Week Kee; had to tighten the new headset a bit, but everything's buttery now.
This entry is filed under Bicycling. You can follow responses through the RSS 2.0 feed. Both comments and pings are currently closed.