Posted by Eric (September 25, 2008 at 11:16 am)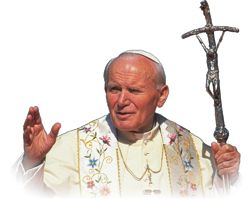 Lately some Catholic commentators have been arguing that Catholics either can or should vote for Barack Obama, arguing that he espouses more positions that adhere to Catholic teaching than does John McCain.
That's debatable to say the least, as is whether Obama can actually deliver on the particular campaign promises attractive to some, mostly liberal, Catholics. But aside from those arguments, there is entirely different calculus by which liberal Catholics would do best to vote for John McCain in 2008.
Let me first clarify that I'm speaking here of those liberal Catholics—a majority, I think—who believe with the Church that abortion is a grave injustice, even if they are of mixed opinions on what the legal status of abortion ought to be.
In a nutshell, liberal Catholics should vote for John McCain to take abortion off the national table. That issue, more than any other, stands in the way of the domestic and foreign policies liberal Catholics want to see enacted.
What liberal Catholics—liberals in general—don't understand about conservative Catholics is that they are far more loyal to the vision of Pope John Paul II than that of Ronald Reagan.
They vote Republican because they were taught by John Paul II that protecting the lives of unborn children is their most important political task—"the most important work on earth", as he said to pro-life leader Fr. Paul Marx—and far more often than not, the pro-life candidate is the Republican.
Now, I happen to be a fan of Ronald Reagan. I voted for him in my first election, in 1984. During a liberal phase in my twenties, I disavowed my earlier support for Reagan, even voting for Bill Clinton in 1992. I still opposed abortion then, but I reasoned that Clinton's plans—like a national health care system—would dramatically reduce abortion.
I was wrong about that—as wrong as Obama's Catholic supporters are now in arguing his policies would substantially reduce abortion—but in the mean time I've returned to espousing the conservative political views championed by Ronald Reagan.
But there are many other Catholics who are loyal to the Republican party, on the national level, not because they are Reaganite conservatives, but because they know the only way that Roe v. Wade is going to be overturned is if a Republican president appoints more justices to the Supreme Court in the mold of Roberts, Alito, Thomas and Scalia.
And while it's true that Reagan appointees O'Connor and Kennedy and Bush 41 appointee Souter proved to be tremendous disappointments to pro-life Catholics, Thomas (Bush 41) and Roberts and Alito (Bush 43) have restored the hope of one day overturning Roe v. Wade. One more constitutionalist on the court could mean the end of Roe v. Wade.
That, of course, would not mean the end of abortion in the United States—it would only be the beginning of the state-by-state battle over abortion that should have taken place in the 1970s.
But the reversal of Roe v. Wade could mean the end of abortion politics in national elections—or at least radically diminish the importance of abortion in presidential and congressional races.
And for liberal Catholics—especially those who are willing to describe themselves as pro-life—that could mean a new opportunity to join forces with the those conservative John Paul II Catholics who are sympathetic to traditionally liberal positions.
If liberal Catholics are really serious about advancing issues like these, they would to well to vote for John McCain on November 4, with a view to gaining future allies among those John Paul II Catholics who will never vote for a candidate who claims to seek social justice while condoning the legalized killing of 1.2 million unborn babies every year.
That injustice was paramount for John Paul II. Once that injustice is no longer being perpetuated by the federal government, John Paul II Catholics will gratefully embrace the opportunity to deliberate policies addressing the many other social injustices the late Pope spoke out against. Many of them will become allies of liberal Catholics on issues like immigration, a living wage and the death penalty.
But if liberal Catholics choose instead to vote for Barack Obama—in an election where Catholics votes will decide the outcome—they could be ensuring that abortion will remain on the national table, a perpetual hindrance to moving forward on the issues they really care about.
This entry is filed under Catholicism, Law & Politics, Pro-Life. You can follow responses through the RSS 2.0 feed. Both comments and pings are currently closed.