Posted by Eric (May 28, 2009 at 4:15 pm)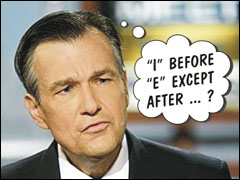 Listening to some of the meandering nonsense coming from Doug Kmiec during his recent debate with Hadley Arkes at Villanova University (Part 1) (Part 2), I began to wonder if he'd lost his mind.
For example, he asked us to believe that what Barack Obama meant when he said he wouldn't want his daughters "punished with a baby" if they made a mistake was that he wouldn't want to see them deprived of all the joy that comes from learning that you're going to become a parent when the time is right. "Punished with a baby" seems like a strange way to put it, but that's what Obama told Kmiec, and Kmiec bought it.
Now I find this sentence in a National Catholic Reporter article on Obama's Sotomayor Supreme Court pick:
Frankly, that's a tough issue in knowing where the government is wrongfully using its funds to penalize you for your point of view differentiates from where the government is expressing its own opinion is often treacherous territory.
Wow. I think I know what he's trying to say here, but I see at least three different sentences all wrapped up around each other in there like Siamese triplets—what I described to my students at a "mixed construction" when I was a teacher of English composition.
A "mixed construction" is what happens when you start out expressing an idea with one sentence pattern and somewhere in the middle switch to a different, incompatible sentence pattern. It happens all the time to people in live interviews, but it's not what you expect from a supposedly brilliant scholar writing something for publication.
Kmiec starts off with the wordy and awkward "that's a tough issue in knowing"—which we could streamline as "it's tough to know"—but switches to a different construction at the word "differentiates" and then again with the clause "is often treacherous territory."
He's losing his place in this sentence just like he does over and over again in the debate with Arkes. You think he's building up towards a point, when he just veers off into something else. I give Arkes a lot of credit for being able to find points to debate over; I found Kmiec so rambling that I wouldn't have known where to begin.
Now, for anyone who thinks I'm picking on Kmiec unfairly for one badly-written sentence, there's also this, the concluding paragraph of the NCR piece:
Of course, this woman is from New York, and at the risk of enormous stereotype of the Empire State, those of us on the West Coast have always noticed a certain—well, curt efficiency—in the New York personality. This is not likely to play as well as the bon vivant boyish charm of John Roberts, but hey, we can't all smile pretty. And as we say in Malibu, Have a Nice Day!
"At the risk of enormous stereotype"? He sounds drunk. And what's with the "Have a Nice Day!"? What does that have to do with anything? He really sounds like he's gone mad.
That's a very sad thing. I heard Kmiec speak at the Rose Dinner after the 2004 March for Life and was impressed. Along with the whole pro-life movement, I was dismayed when Kmiec came out in favor of Obama. "What can he be thinking?" we all asked.
Now it's looking more and more like he isn't thinking at all.
But don't take my word for it. Kmiec will debate Robert George at the National Press Club this evening at 5 p.m. EDT on the topic "The Obama Administration and the Sanctity of Human Life: Is There a Common Ground on Life Issues? What is the Right Response by Pro-Life Citizens?"
The event is being hosted by the Catholic University of America and will be  moderated by, of all people, Mary Ann Glendon, the Harvard professor who declined to accept Notre Dame's Laetare Medal this year in protest of the honors being confered on Barack Obama.
Pro-life blogger Jill Stanek is attending the debate and will be live-blogging it, as so will Thomas Peters of American Papist. Afterwards the video will be posted on the CUA website, here.
I've never seen Robert George speak, but I've read his stuff in First Things. Smart guy. Should be an interesting debate.
This entry is filed under Law & Politics, Pro-Life. You can follow responses through the RSS 2.0 feed. Both comments and pings are currently closed.