Posted by Eric (August 22, 2006 at 3:11 pm)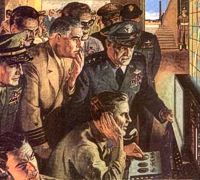 Nothing is more tedious to read than a blog entry on why the blogger hasn't bothered to post anything in a while, except possibly the list of ingredients on the side of cereal box. Then again, the dubious substances disclosed therein might produce a degree of anxiety in the reader that is incompatible with tedium.
Who cares why the blogger hasn't blogged? Such a post is of intest—if at all—only for a day or two. Who really looks at the dates of archived entries anyway? One post apologizing (self-indulgently, of course) for not posting in a while is pretty meaningless in the midst of hundreds of posts with actual content.
Then again, not to say something after a hiatus of three months seems almost obscene. So here goes.