Posted by Eric (August 22, 2006 at 3:11 pm)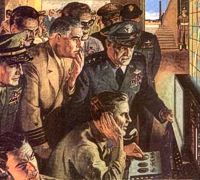 Nothing is more tedious to read than a blog entry on why the blogger hasn't bothered to post anything in a while, except possibly the list of ingredients on the side of cereal box. Then again, the dubious substances disclosed therein might produce a degree of anxiety in the reader that is incompatible with tedium.
Who cares why the blogger hasn't blogged? Such a post is of intest—if at all—only for a day or two. Who really looks at the dates of archived entries anyway? One post apologizing (self-indulgently, of course) for not posting in a while is pretty meaningless in the midst of hundreds of posts with actual content.
Then again, not to say something after a hiatus of three months seems almost obscene. So here goes.
The big newsflash is that I've been busy. Back in June I drove cross-country to New Mexico with a troop of ten altar boys from St. George Church and another of the dads for the Alive in Christ "Byzantine Boys Bootcamp" in the Zuni Mountains. No plumbing, no electricity, a layer of red dust everywhere an inch thick, lizards and pine trees. Prayer and fasting, chanting Psalms under the stars, and lots of singing with other cantor dads. I've been missing the mountains ever since.
In July I coordinated the Pro-Life Action League's Face the Truth Tour. We visited three sites a day for seven days, all over northeastern Illinois, holding graphic abortion signs and passing out literature on abortion and post-abortion help. Controversy ain't in it. I was threatened with arrest several times and sworn at constantly, especially by drivers furious with me for showing their kids abortion pictures—even though their kids weren't actually with them at the time.
In August I took my family for a vacation at Camp George, a facility owned by ARCA, the Association of Romanian Catholics of America. We rented out a couple cabins and the camp lodge for a week and had the whole place to ourselves for a week. Very low key—swimming, canoeing, playing games, reading, singing folks songs and just hanging out. This was actually the first time we went on a family vacation, just us. Much needed and well worthwhile.
To pull off each month's big project of course meant a whole lot of work, much of it surrounding the Pro-Life Action League's upcoming conference, unambiguously titled "Contraception Is Not the Answer". I designed the conference flyer, website and newspaper ads and took a hand in several other aspects of planning the event, including a series of three "preview" teleseminars, the first of which is tonight.
That doesn't leave a lot of time for blogging, especially since I'd much rather be bicycling. In fact, I'm going to head out and do thirty miles or so right now to clear my mind and relax my flesh for that teleseminar tonight.
I cannot promise that I will write another entry soon. I hope so. Flatteringly, several people have come across this blog in recent weeks and wrote to encourage me to get back to it. I've got any number of drafts going, including one promised long ago on the myth that Natural Family Planning can be practiced with a so-called "contraceptive mentality." But will they ever be published?
At least having broken down and written a blog about the blog, I now have an incentive to post again soon—to bury this shameful entry and ensure its future irrelevance. Stay tuned.
This entry is filed under Byzantine, Family, Pro-Life, What Not. You can follow responses through the RSS 2.0 feed. Both comments and pings are currently closed.