Posted by Eric (May 24, 2006 at 1:30 pm)
A few Saturdays ago day I beheld a delightful thing: three little girls were dancing around together in an open space in one of the party rooms of a restaurant. They were dressed up in fancy dresses and I suppose it made them feel like princesses of ballerinas. Their dance somehow combined elegant pirouettes with the bunny hop. A fourth, much littler girl tentatively tried to join in while the little brother of one of girls watched them, gleefully giggling at their silly, joyful dance.
I was considering hunting down my own littler girls—our whole family were guests at the party—to see if they would like to join in the dancing too, when one of the grown ups, an aunt or perhaps a wicked step-mother, came upon the little group and ordered them to stop. "This is neither the time nor the place for dancing," she said. "You can sit down together and talk, or quietly play a game."
How very sad. Seemed to me it was precisely the time and place for dancing—a party, an open space not really in anbody's way. What's more, one of the dancers was none other the little girl in whose honor the party was being held. In fact, I cannot think of a better time and place for dancing than that.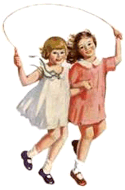 It was not that I just happened to see an adult tell a group of children to quit dancing. I had already been watching them and even reflecting on what a wonderful, refreshing gift is the happiness of children. I felt a bit like I'd had the channel changed on me—I almost wanted to cry out, "Hey, I was watching that!"
But some grown ups—the sort of grown ups to whom Willie Wonka dreaded to hand off the management of the Chocolate Factory—cannot abide the spontaneous exhuberance of children. I do not know why. And there are certainly times when children must be held in check—as for example today at the post office when two little children were running round and round the counters: the post office at 9:00 a.m. is not the place for running and shouting.
But there are times and places for running and shouting and laughing and dancing. We parents have a responsibility to distinguish one from the other, and to do so in a way that is sensitive to and even indulgent of children's natural sense of joy.
I knew a father, a guest at our home, who before my very eyes ordered his children to stop running up and down the sidewalk, which they were doing with my children, racing or playing tag or something. His stern order was befuddling. I couldn't begin to get my head around it. Outrageous.
If I had the wit of a G.K.Chesterton, the Apostle of Glee, I might be able to say something wise about how very, very, deeply, profoundly wrong it is to supress the glee of children. I don't mean never to hold it in check when really necessary; but to stamp it out always and everywhere as a sort of official policy, even at a party, when dancing would seem to be the very thing called for above all else, is an act of brutality against Joy itself.
And that makes me sad. Not rhetorically sad or metaphorically sad, but really, actually, heart-sick sad to see.
This entry is filed under Children, Fatherhood. You can follow responses through the RSS 2.0 feed. Both comments and pings are currently closed.