Posted by Eric (June 27, 2007 at 4:34 pm)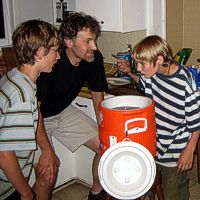 I am probably one of the few non-restaurateurs who needs to know how to make five gallons of iced tea, but if there are any other A/C-hating, do-it-yourselfer fathers of large families out there, here's my recipe—which you see my sons Nate and Sam and I testing out one evening here to the right.
But first, an explanation. Last week I took vacation time to build a large playhouse/fort in the backyard. I'll post an article about that soon, once all the loose ends are tied up. But it was pretty hot last week, and it's been hot all month. We finally got sick of making five and six pitcher of iced tea a day and decided to make a whole lot all at once.