Posted by Eric (June 27, 2007 at 4:34 pm)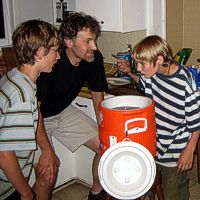 I am probably one of the few non-restaurateurs who needs to know how to make five gallons of iced tea, but if there are any other A/C-hating, do-it-yourselfer fathers of large families out there, here's my recipe—which you see my sons Nate and Sam and I testing out one evening here to the right.
But first, an explanation. Last week I took vacation time to build a large playhouse/fort in the backyard. I'll post an article about that soon, once all the loose ends are tied up. But it was pretty hot last week, and it's been hot all month. We finally got sick of making five and six pitcher of iced tea a day and decided to make a whole lot all at once.
First of course you'll need a five gallon cooler. Plus a box of Lipton Cold Brew "Pitcher Size" iced tea bags, and a large bottle of lemon juice, and a colander the right size to place in the top of the cooler without it dropping all the way down.
Open up the iced tea bags and place them in the colander, on the counter. You don't want any tea bags steeping too much or too little, so wait until you've unpacked them all—22 total—before dropping the colander into the water.
Why the colander? This way you keep all the tea bags together, and there's much less chance that you'll leave one behind and wind up busting it open when you're mixing in the sugar and lemon juice. That's a real drag. Pretty much ruins the lot.
As for the water, I usually use filtered water for anything I'm going to drink, but it would take about a day to get five gallons out of our RO system, so tap water it is. If you've got a team working, one man can fill the cooler while the others are unwrapping the tea bags.
Submerge the tea bags in the water and let them steep for about four minutes. The usual time is three, but it seems like this volume needs an extra minute.
Remove the colander and place it in a bowl where you can safely squeeze the bags out without worrying about breaking one of them. Pour the salvaged tea goodness from the bowl in to the cooler.
I like my tea moderately sweet and very lemony. So I use 6 fluid ounces of lemon juice and 2.25 cups of sugar for a five-gallon batch.
Now you've got to refrigerate the tea. Fortunately I have a fridge dedicated to beer brewing, where there's usually room for a five gallon cooler, especially in summer when I rarely brew, it being too hot to ferment wort at the low temperatures I consider ideal for a good ale.
I would love to know if anyone tries this recipe. It's no stroke of genius or anything, but it might be nice to know what kind of volume of lemon juice and sugar you need for such a large batch—and about the tea bag bursting problem; I'd have appreciated the information. But having discovered it myself, I am sharing it with the world.
Enjoy.
This entry is filed under Brewing & Cooking. You can follow responses through the RSS 2.0 feed. Both comments and pings are currently closed.