Posted by Eric (February 13, 2007 at 10:20 am)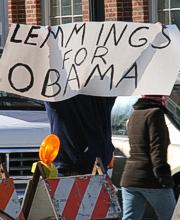 At our protest at the Barack Obama presidential candidacy announcement, we got a chuckle from this guy's sign: Lemmings for Obama. As things were winding down, I walked over and talked to him a bit.
"That's an interesting sign," I said. "What's it all about?" He told me he wanted to make the point that people don't know what they're supporting.
"So what are some of the kinds of things the people out here don't know about Obama?" I asked. (more…)