Posted by Eric (February 13, 2007 at 10:20 am)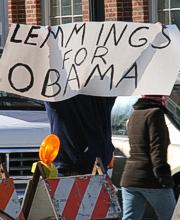 At our protest at the Barack Obama presidential candidacy announcement, we got a chuckle from this guy's sign: Lemmings for Obama. As things were winding down, I walked over and talked to him a bit.
"That's an interesting sign," I said. "What's it all about?" He told me he wanted to make the point that people don't know what they're supporting.
"So what are some of the kinds of things the people out here don't know about Obama?" I asked.
At this he squinted and grew suspicious. "Why do you want to know? Are you with the media or something?" I had a big camera around my neck, so it was a reasonable question.
"Well, I was here protesting Obama's support for abortion. A lot of the people out here cheering him didn't know about that, or weren't thinking about it." He didn't deny it. "So are there other issues that people aren't aware of?" No response. "Or are you just pointing out, in general that people are just jumping on the Obama bandwagon?" He began to roll up his sign.
"Well, anyway," I said, "I like your sign." He said something like "Okay," and that was it.
In the end, he couldn't really tell me why he was out there with that sign, exactly what it was that had inspired him to come out on a bitterly cold day to the Old State Capitol and join the crowd.
In the end, I suppose his sign was simply perfectly honest—he really was a lemming for Obama.
This entry is filed under What Not. You can follow responses through the RSS 2.0 feed. Both comments and pings are currently closed.